Miami-Dade County Commissioner Dennis C. Moss and Neat Streets Miami invite transportation leaders to share vision for "Complete Streets"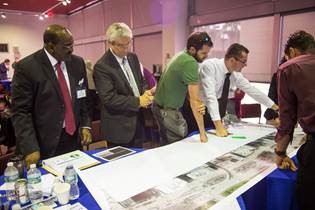 Commissioner Dennis C. Moss (left) reviews sample transportation corridors during the "Complete Streets" forum at
Miami-Dade College Wolfson Campus.
(MIAMI, FL) – A talented host of local, state and national transportation leaders recently joined County officials for a public forum to share best practices and resources to take this county "Beyond Cars: Balancing All Modes to Achieve Safer, Inviting Corridors and Gateways." Miami-Dade County Commissioner Dennis C. Moss, who serves as Chairman of Neat Streets Miami, opened the forum, which was held recently at Miami-Dade College Wolfson Campus.
"As we grow, it will be more and more important to create a connected system that serves all modes and all people," said Commissioner Moss. "What we have learned is that attractive streets are safe streets. The Neat Streets Miami Board is focused on the maintenance and beautification of transportation corridors, gateways and connections. The Complete Streets movement marries the Neat Streets Miami goal of maintaining and beautifying roadways with our community's need to create more safe and inviting corridors that everyone can enjoy."
Patrice Gillespie Smith, Manager of Neat Streets Miami, highlighted many of the initiatives and departments that are working to improve the transportation system across the state. "We have problems similar to many rapidly growing major international hubs and thus we have a lot to learn from others," said Smith. "We also have a lot of great things going on in the County."
In November 2014, the Miami-Dade Board of County Commissioners passed a resolution directing the Mayor or designee to develop, in coordination with the Florida Department of Transportation, the Metropolitan Planning Organization and other applicable entities, a plan for implementation of a "complete streets" program. Miami-Dade County Mayor Carlos A. Gimenez demonstrated his support for the County's Complete Streets initiative when he accepted the U.S. Department of Transportation's "Mayors' Challenge for Safer People, Safer Streets." The "Complete Streets" initiative will contribute to the development of a connected and complete transportation network. It will reduce hazards and improve safety for pedestrians and cyclists, especially vulnerable elements of the population who may be unable to operate a motor vehicle. The result is a more livable and sustainable community for persons of all ages and abilities.