Commissioner Moss thanks Building Homes for Heroes as they support the men and women who have courageously served our country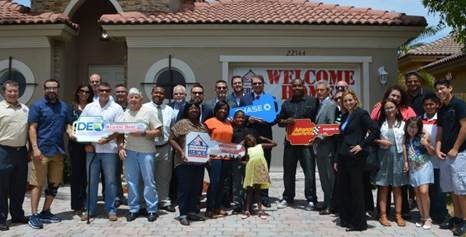 Senior Airman Michael Fletcher (center right) pictured with representatives from Chase Bank, Advance Auto and the Florida Department of Economic Opportunity
(MIAMI, FL) – The Office of Miami-Dade County Commissioner Dennis C. Moss recently joined Building Homes for Heroes as they presented Senior Airman Michael Fletcher with the keys to his new South Miami-Dade home. Senior Airman Fletcher received a warm welcome home from representatives of Chase Bank, the Florida Department of Economic Opportunity, and many other well-wishers and supporters.
Senior Airman Fletcher was deployed to Iraq as a turret gunner. He was severely injured when the vehicle rolled over twice at Camp Bucca during Operation Iraqi Freedom. Fletcher sustained severe injury to his face and legs and loss of vision in his left eye. He underwent numerous surgeries as, among other things, his orbital bones were crushed and his left arm was severed at the shoulder. Medics restarted his heart twice during the medevac operation. At the time of the incident, Fletcher's wife Yolanda, who is also in the Air Force stationed in Alaska, was six months pregnant with the couple's youngest son.
"Senior Airman Fletcher is a fighter in every way," Commissioner Moss said. "He fought for this country and fought for his life and family. We owe it to him and to all other wounded veterans to fight for them when they return home. Building Homes for Heroes is to be commended for providing leadership in this charge."
Building Homes for Heroes is committed to rebuilding the lives and supporting the brave men and women who were injured while serving the country during the wars in Iraq or Afghanistan. The organization builds or modifies homes and gifts them, mortgage-free, to veterans and their families. They are on pace to gift 25 mortgage-free homes in the state of Florida in 2015.