Ready for Work!
Employ Miami-Dade recognizes first class of graduates from Work Readiness Program at South Dade Technical College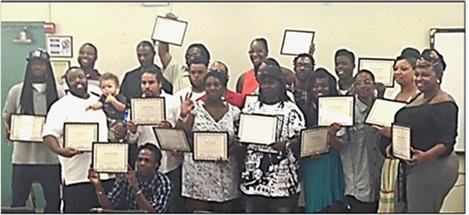 (MIAMI, FL) - Recently Employ Miami-Dade recognized students who successfully completed the Work Readiness program at South Dade Technical College. This component of the Employ Miami-Dade Construction Certification Training program focuses on education, leadership skills, resume writing and interview preparation. The Employ Miami-Dade initiative, launched in December 2014, provides the skills training necessary to prepare residents to enter the workforce and connect employers with potential workers.
"Many people in the job market today have been out of work or looking for work for a very long time," said Miami-Dade County Commissioner Dennis C. Moss. "In addition to offering certification, this program goes the extra mile to make sure that candidates interview well and are confident when they walk through the door."
Graduates were congratulated and encouraged by speakers including Miami-Dade County Deputy Mayor Russell Benford, CareerSource South Florida Executive Director Rick Beasley and Neighbors and Neighbors Association Executive Director Leroy Jones along with school administration, family and friends.
Construction Certification training will begin at South Dade Technical College on January 4, 2016. Registration for residents living in zip codes 33055, 33056, 33054, 33147, 33127, 33142, 33138, 33150, 33136, 33143, 33157, 33170, 33177, 33132, 33130 and 33034 is now open at the South Dade Technical College. You must be 18 years of age or older.
For more information contact CareerSource South Florida at 305-372-8300 or register online.