Commissioner Moss recognizes Miriam Figueroa–Gonzalez for six years of dedicated service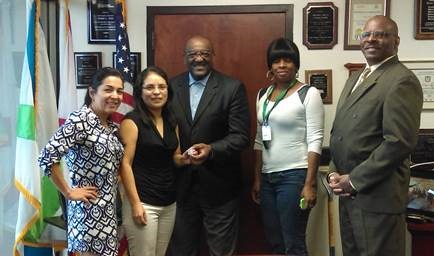 Commissioner Dennis C. Moss, center, is joined from left by staff members Diana Perez, Miriam Figueroa-Gonzalez, Helena Sumpter and Wayman Bannerman.
MIAMI – Every so often, an employee comes along with the skill and dedication to stand the test of time. On December 18, 2015, Miriam Figueroa-Gonzalez was recognized for six years of dedicated service by Miami-Dade County Commissioner Dennis C. Moss and received a sterling silver lapel pin as a memento.
Figueroa-Gonzalez has been "Delivering Excellence Every Day" since 2009 as an Administrative Aide to Commissioner Moss.
"Miriam is a valuable member of the Moss Team, providing tireless community service to the constituents of District 9," Commissioner Moss said. "People often stop me and thank me for helping them work through a concern that they may have. Many times it's resourceful staff members like Miriam who have done the legwork to resolve these issues."
Miami-Dade County employees are recognized for a variety of achievements including years of service, an occasion of exceptional performance or a long history of outstanding performance. Service pins are presented by the Human Resources Department until year 30 when a plaque is also presented before the Board of County Commissioners.