The MDPD South District NRU makes learning fun during Youth Summer Camp Program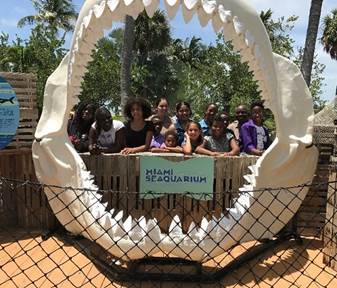 MIAMI – Thanks to the Miami-Dade Police Department South District Neighborhood Resource Unit (NRU), youth from South Dade will enjoy the summer visiting landmark attractions while learning about county government and services as a part of the NRU Summer Camp Program.
Summer camp participantsfromthe communities of Perrine Gardens and Cutler Manor observed government in action at a meeting of the Miami-Dade Board of County Commissioners, traveled to the South Dade Government Center and observed County Traffic Court in session. Next, the group was welcomed by the office of CountyCommissioner Dennis C. Moss and Commissioner Daniella Levine Cava.
"It is important that our kids not only learn about how government works, but understand that our law enforcement officers, particularly in Miami-Dade County, do a lot more than make arrests," said Commissioner Moss. "They are dedicated to making our neighborhoods safe so that we can enjoy the many family activities that we have right in our own back yard."
Next on the agenda was a tour of the South Miami-Dade Cultural Arts Center. The day concluded at the MDPD South District Station, where the kids got the opportunity to meet Major Samuel Bronson, Commander.
In addition to these experiences, the summer camp groups and Miami-Dade Police Youth Outreach Unit (YOU) mentees visited the Miami Seaquarium and West Perrine Aquatic Center and are scheduled to tour the Miami International Airport Facilities and Fire Station.
"Each of these activities are specifically designed to expose the children to experiences that will enhance their awareness of County Government and the vast number of career paths available to them," said Officer Ronald Tookes, MDPD South District Neighborhood Resource Team. The NRU Summer Camp Program runs through August 18, 2017.