25 years after Hurricane Andrew, County Commission recognizes the Moss Plan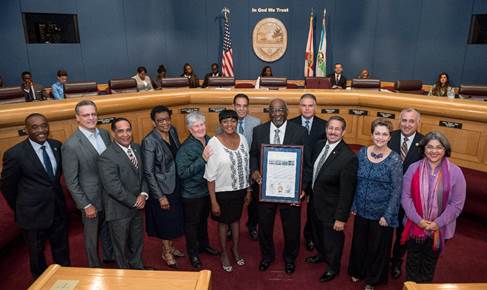 Commissioner Moss (center) with members of the Board of County Commissioners and former County Commissioner Miguel Diaz de la Portilla (second from left).
MIAMI – August 24, 2017 marks the 25th Anniversary of Hurricane Andrew, the Category 5 storm that leveled South Miami-Dade. The Miami-Dade Board of County Commissioners recently took a moment to reflect on the devastation, the outpouring of support, the resilience of the people of South Dade, and the leadership of Commissioner Dennis C. Moss, who spearheaded a bold plan to build a better South Dade that would come to be known as the Moss Plan.
The special presentation began with a first-hand account from County Commissioner Joe A. Martinez, who recognized Commissioner Moss for providing the leadership needed to ensure that the County remained focused on the needs of the South Dade community and the thousands of residents whose lives were upended by the hurricane. Commission Chairman Esteban L. Bovo, Jr., thanked Commissioner Moss for being the right person at the right time to lead the recovery effort in South Dade. "In the aftermath, there were so many people looking for angels," Chairman Bovo said. "Commissioner Moss fulfilled that role."
Commissioner Moss also reflected on those difficult days and the community's inspiring turnaround.
"The day after the hurricane, I was standing in West Perrine with Ed Hanna, former Director of the West Perrine CDC, and we were trying to figure out what are we going to do to help this community and where was the cavalry," Commissioner Moss said. "That day, the first person we saw was retired Police Director then Officer Bobby Parker. That was the beginning of a wave of support that included truckloads of ice, generators and portables that would establish a command center and distribution point for hurricane relief supplies."
Today, with improved infrastructure, the saving of Homestead Air Reserve base and the opening of the South Miami-Dade Cultural Arts Center, South Miami-Dade County is back and better than ever.
"This recognition is not for me; it's for all the people who pulled together during a very dire time," Commissioner Moss said.