Community comes out to celebrate the Grand Opening of FedEx Ground in South-Dade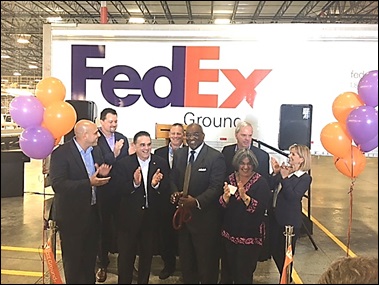 (L to R: Lenny Vaughn, Sr. Manaager South Miami-Dade location, Bob Deans, Manager District Operations, Bob Holcomb, VP Regional Operations, Joe Vitaliano, Sr. Manager Metro Territory,
County Commissioner Dennis C. Moss,
County Commisser Daniella Levine Cava, Mayor Jeff Porter, City of Homestead, Kerry Black CEO South-Dade Chamber of Commerce).
(MIAMI) – Recently, FedEx Ground celebrated the grand opening of a brand new 237,000 square ft. station in South Miami-Dade County. With approximately 170 employees, this state-of-the-art facility is capable of processing 8,000 packages per hour and is poised to be a major economic engine in the heart of the community.
Joining in the celebration were Miami-Dade Commissioners Dennis C. Moss and Daniella Levine-Cava along with other elected officials and guests who got a first-hand look at the facility during a tour. "This FedEx Ground station is an anchor for future business in the area," said Commissioner Moss. "As a result of FedEx being here, you have other companies that are looking to relocate to the area."
The FedEx Ground station located at 27200 SW 127th Ave., Homestead, FL is part of a network of more than 590 facilities and will serve a local delivery area from Flagler Street to the north to Florida City to the south.