The Miami International Agriculture, Horse & Cattle show returns to Tropical Park April 11-13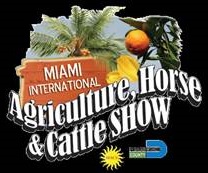 (MIAMI, FL) – Miami-Dade County's annual cattle show extravaganza is returning this April with more attractions, entertainment and excitement than ever before.
The 7th annual Miami International Agriculture, Horse & Cattle (MIAHCS) show, hosted by Miami-Dade County Commissioner Javier D. Souto, will run from Friday, April 11 through Sunday, April 13 at Tropical Park's Ronald Reagan Equestrian Center, 7900 SW 40th Street. The event, which attracts more than 60,000 visitors a year from over 24 countries, features a cattle auction, equestrian shows and local agriculture vendors.
This year's show, which promises to be the biggest and best ever, also will feature jousting and sword fighting on horseback by Medieval Times Spectacular Knights, leaping Spanish Andalusian horses, 10 bands performing live music, pony rides, a petting zoo, farm animals for sale, plant and flowers sellers, and the largest-ever Kids Fun Zone. Admission, activities and parking are all free, and all proceeds from the event will go to the nonprofit South Florida Autism Charter School.
Commissioner Souto launched the first MIAHCS in 2008 as a way to promote Miami-Dade's agricultural industry to the rest of the country and the world. The event has expanded dramatically since then, contributing to Miami-Dade's growth as an international gateway for agribusiness. The Florida Cattlemen's Association named MIAHCS one of five Premier Point Shows in Florida, and the event has been recognized by the American Brahman Breeders Association as a point show.
"It's wonderful to see how this great event has grown over the years to really put Miami-Dade on the map as an important market for seed stock producers and purebred cattle exhibitors to do business," Commissioner Souto said. "Miami-Dade County, with its strategic location at the crossroads of the Americas, has become an emerging leader in agribusiness, particularly in beef cattle shows."
For more information, please call 305-222-2116 or visit www.miamicattleshow.org.
Who:
Miami-Dade County Commissioner Javier D. Souto Miami-Dade County Parks, Recreation & Open Spaces Department
What:
7th Annual Miami International Agriculture, Horse & Cattle Show
When:
April 11, 2014
Where:
Tropical Park's Ronald Reagan Equestrian Center 7900 SW 40th Street, Miami
Editor's Note:
(Not for publication: A VIP-only reception with Florida Agriculture and Consumer Services Commissioner Adam Putnam, County Mayor Carlos Gimenez, County Commission Chairwoman Rebeca Sosa and Commissioner Souto will be held on Friday, April 11 at 5:30 p.m. at the Ronald Reagan Equestrian Center at Tropical Park, 7900 SW 40 Street. Please RSVP to Merci L. Rodriguez at 305-375-4835 no later than April 10, 2014.)