County Commission honors acclaimed Colombian-American journalist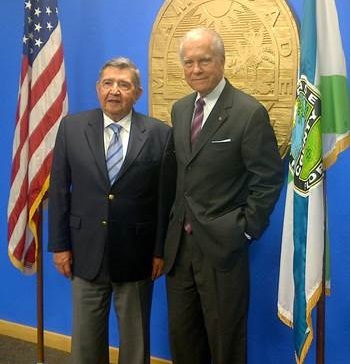 Respected Colombian-American journalist Eucario Bermudez, left, was honored by County Commissioner Javier Souto with a street renaming resolution.
(Photo by Merci Rodriguez / Commissioner Souto's staff)
(MIAMI, FL) – A longtime Miami-Dade resident and Colombia native acclaimed as a founder of Colombian radio in Miami will have a street named after him in recognition of his contributions to the community.
The Miami-Dade County Commission on April 8 approved a resolution sponsored by Commissioner Javier Souto to name Southwest 110th Avenue between 32nd and 40th streets as Eucario Bermudez Way.
Mr. Bermudez, who attended the Commission meeting to accept the honor, began working for 1260 AM Radio Caracol when the station launched in 1994. During his more than 25 years at the station, he emerged as one of Miami's most respected journalists, winning many awards including the prestigious Premios Onda Award from Spain.
Mr. Bermudez founded the Association of Colombian News Outlets and Journalists in the United States, the Colombian American Association, and the Colombian Political Action Committee (COLPAC). He also served as President of the Columbian American Chamber of Commerce.