Commissioner Souto pays tribute to those who fought on D-Day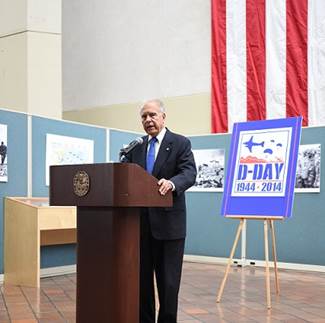 County Commissioner Javier Souto speaks at the ceremony commemorating D-Day.
(Photos by Armando Rodriguez / Miami-Dade County photographer)
(MIAMI, FL) – Miami-Dade County paid homage on June 3 to the heroism of those who fought in the historic D-Day invasion to liberate Europe from Nazi occupation.
Miami-Dade County Commissioner Javier Souto, who organized the D-Day 70th anniversary tribute, joined the Board of County Commissioners, County Mayor Carlos Gimenez, and U.S. Southern Command in a ceremony held in the Stephen P. Clark Center lobby, 111 NW 1st St. in downtown Miami, where an exhibit commemorating the June 6, 1944 D-Day landing is on display.
"D-Day changed the course of history, and we must never forget those who fought to restore freedom in Western Europe and establish a lasting peace in the world," Commissioner Souto said. "We stand here today in freedom because of their sacrifices."
The D-Day exhibit, which will be on display through Friday, June 13, features a vintage World War II jeep, a giant American flag and a display panel with photographs and information about the historic invasion.
D-Day marked the beginning of the Battle of Normandy, the largest amphibious assault in the history of modern warfare, when more than 150,000 Allied troops led by Gen. Dwight Eisenhower stormed five beaches along a 50-mile stretch of the heavily fortified coast of France's Normandy region. The successful invasion decisively turned the tide of World War II against Nazi Germany and led to the liberation of Western Europe.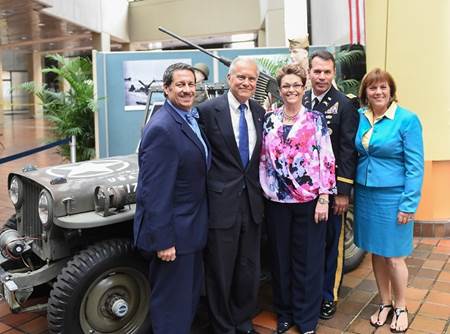 Above (from left to right): Commissioners Jose "Pepe" Diaz and Javier Souto, Commission Chairwoman Rebeca Sosa, U.S. Southern Command Public Affairs Chief Army Col. Gregory Julian, and Commission Vice Chair Lynda Bell stand next to a vintage World War II jeep at the D-Day exhibit in the Stephen P. Clark Center lobby. Below: Mayor Carlos Gimenez speaks at the D-Day commemoration.