Commissioner Javier D. Souto joins Miami Cuban radio legend at Tropical Park to rename baseball field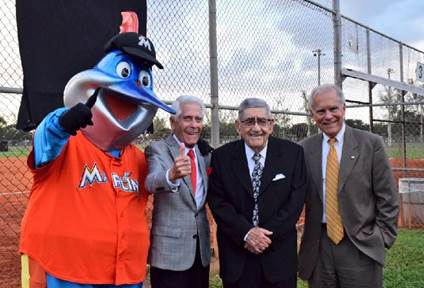 From right, Commissioner Javier Souto with iconic broadcaster Rafael 'Felo' Ramirez, WQBA personality
Eduardo Gonzalo Rubio, and Billy the Marlin.
MIAMI – Iconic radio broadcaster Rafael 'Felo' Ramirez, long recognized as the Spanish "Voice of the Marlins" and for connecting generations of Spanish radio listeners to the sport of baseball in his 70-plus years on air, now has a Miami-Dade baseball field named after him.
On December 14, Ramirez joined Miami-Dade County Commissioner Javier D. Souto, baseball-loving fans, and representatives from the Miami-Dade County Parks, Recreation and Open Spaces department at Tropical Park's baseball field #3 to officially dedicate the newly named "Rafael 'Felo' Ramirez Baseball Field."
The field naming is the result of a Miami-Dade County resolution sponsored by Commissioner Souto and approved by the Miami-Dade County Board of County Commissioners in September.
"This is a well-deserved honor for a truly beloved figure," Commissioner Souto said.
The Cuban-born 93-year-old Ramirez, affectionately known by radio fans and colleagues as "El Orgullo de Bayamo" ("The Pride of Bayamo") - his hometown, remains the principal Spanish broadcaster for every Miami Marlins baseball game (since 1993) on Radio Mambi (710AM). A true pioneer of baseball broadcasting, Ramirez began his announcing career at Radio Salas in Havana (1945). From there he went on to Puerto Rico and Venezuela, calling action for such illustrious baseball teams as the Cagua Natives, Santurce Crabs, San Juan Senators, and Magallanes. He was inducted into the National Baseball Hall of Fame as the Ford C. Frick Award recipient (2001), for his "major contributions to the game of baseball." In his milestones, Ramirez lent his voice to more than 40 Caribbean World Series games and dozens of World Series and All Star Games broadcasts throughout Latin America. His many baseball moments include Hank Aaron's 715th home run, Roberto Clemente's 3,000th career hit, Don Larsen's perfect World Series game, and the Marlins 1997 and 2003 World Series.