Commissioner Juan C. Zapata began the Children First Education Initiative Program at John A. Ferguson Sr. High
In an attempt to bring attention to children's scholastic achievements, as well as their emotional well-being and safety, Commissioner Zapata began his monthly visits to the schools in District 11 with a visit to John A. Ferguson Senior High on Tuesday, April 30th.
Accompanied by Public Works traffic engineers, Commissioner Zapata arrived prior to the start of the school day to identify traffic issues. The traffic engineers and Commissioner identified traffic safety improvements that will address concerns and reduce traffic congestion during school hours.
Once school started, Commissioner Zapata toured the school, met with school administrators, faculty and students. He was also interviewed by Florida Broadcasting News, which is Ferguson Senior High School's news station. Additionally, he visited students in their government & economics classes and spoke to them and answered questions they had about local and state government.
For more information, please contact Commissioner Zapata's office at 305-375-5511.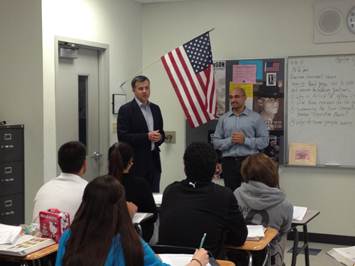 Photo Credits: Fernanda Sanchez/District 11 Staff