Commissioner Zapata was the host for the Ride-4-Fun & Family Summer Kickoff Event at the West Kendall Baptist Hospital
Commissioner Juan C. Zapata hosted over 600 residents at West Kendall Baptist Hospital for the first annual Ride-4-Fun Summer Kickoff Event that took place on Saturday, May 18, 2013.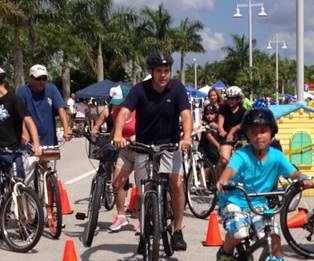 Children of all ages enjoyed bounce houses, a fun house, an obstacle course, a rock climbing wall, raffles, free food and many giveaways. The Miami-Dade Police Department provided children with bicycles safety instructions and then they joined Commissioner Zapata for a ride around the area of West Kendall Baptist Hospital.
The purpose of the Summer Kickoff event was to introduce parents to the different types of sports, recreation, cultural and educational programs and camps that will be available during the summer months and throughout the year for their children to enjoy. Many County departments took part in this event by providing information to residents on different summer events and activities.
For more information, please contact Commissioner Zapata's office at 305-375-5511.