Over 1000 students receive free backpacks at Commissioner Zapata's Back-to-School giveaway event
Over 1,000 students will start the school year with a new backpack received at a Back-to-school giveaway event hosted by Commissioner Juan C. Zapata, Senator Anitere Flores, Representative Jeanette Nunez and Councilwoman Carolina Blanco. Free schools supplies and materials were also distributed to kids. The event was held on Saturday, August 3rd at Kendale Lakes Branch Library.
The Back-to-school giveaway was made possible through the sponsorship of The Children's Trust, West Kendall Baptist Hospital, First Bank, the Miami Heat, the Miami Dolphins, Longhorn Steakhouse, Hope for Miami, Read 2 Succeed, and Maru & Friends.
For more information, please contact Commissioner Zapata's office at 305-375-5511.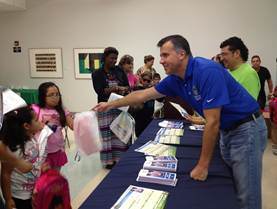 Photo Credit: Miami-Dade County