(Miami-Dade County, FL) --
Over 400 residents joined Commissioner Juan C. Zapata, State Reps. Jeanette Nuñez and Carlos Trujillo, and School Board Member Carlos Curbelo to kick off the holiday season at the First Annual West End Holiday Magic event and Christmas tree-lighting ceremony on Thursday, November 22, 2013 at Kendale Lakes Library. Officials lit the grand tree and switched on the gateway lights at neighboring Olympic Park. Event goers enjoyed food trucks, a rock climbing wall, bounce houses, story time and the Roxy Theater Group carolers who brought good cheer with holiday songs.
The West End Holiday Magic will continue through January 9, 2014 with family-friendly events on the weekends including free rides for children, special appearances by Santa Claus, a food truck, snow days, and many other family-friendly activities. Kendale Lakes Library is located at 15205 SW 88th Street.
"We want residents of West Kendall to be able to enjoy some great holiday entertainment and activities right in their own backyards," said Commissioner Zapata. "We encourage the community to come out and take advantage of all the fun."
The First Annual West End Holiday Magic event is made possible through the sponsorships of Lennar, Miami-Dade County Parks & Recreation, and the Parks Foundation of Miami-Dade, among others.
For more information, please contact Commissioner Zapata's office at 305-375-5511.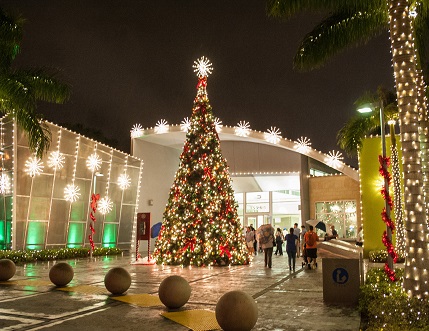 The grand tree Christmas tree at Kendale Lakes Library
Photos by Armando Rodriguez / Miami-Dade County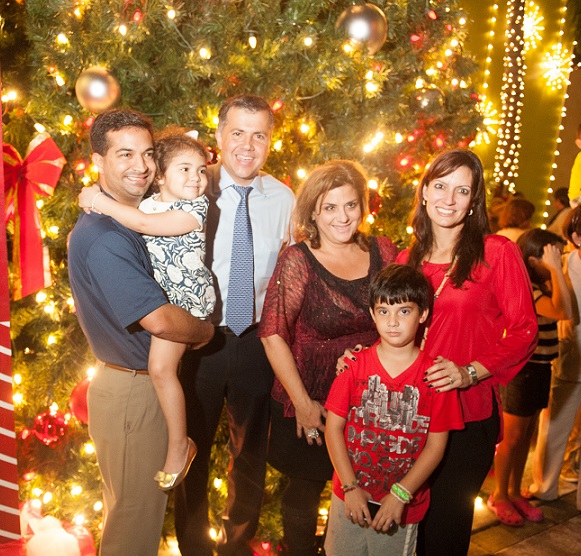 Commissioner Zapata joins School Board Member Carlos Curbelo and State Rep. Jeanette Nuñez in front of the grand tree (above), and greets Christmas carolers (below).