(Miami-Dade County, FL) --
The "14 Days of Neighborly Love – Inspiring Random Acts of Kindness" initiative continues as Commissioner Diaz and Mayor Yioset De La Cruz treated 50 honor roll students at Hialeah Gardens Elementary School with a pizza party on Tuesday, February 19, 2013. As their random act of kindness, Commissioner Diaz and Mayor De La Cruz served pizza, Blue Bell Ice Cream, and provided students with bags of Popchips.
"14 days of Love initiative is about doing something nice for others and that's why today, I and the mayor have provided students with this pizza party for a job well done," said Commissioner Diaz. "Maybe this will inspire them to do something nice for another human being and that's what "14 days of Love" initiative is really about."
The "14 Days of Neighborly Love" initiative, inspired in part by Valentine's Day, involves businesses and organizations donating their time and services from February 14 to February 27 to residents as a way of showing love for their neighbors and community. Until February 27, residents can take advantage of several services and goods offered at a discount or for free, such as tax preparation, marriage counseling, car washes, and more. For more information on this initiative or to get involved visit us at www.facebook.com/14DNL or call Commissioner Diaz's office at 305-599-1200.
This event was sponsored by Blue Bell Ice Cream and Popchips.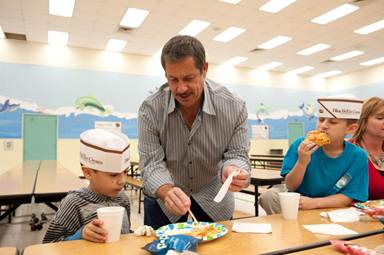 Photo by: Armando Rodriguez (Miami-Dade County Photographer)