(Miami-Dade County, FL) --
In a world where gas is reaching $4 a gallon, drivers passing by Finish Line gas station where pleasantly surprised to see the station had slashed its price for regular gas to $2.27 per gallon for two hours on Wednesday, February 27. The price cut was all part of Commissioner Jose "Pepe" Diaz's initiative "14 Days of Neighborly Love – Inspiring Random Acts of Kindness."
Photo by Ryan Holloway-Miami-Dade County Photographer
From 10 a.m. to Noon, Finish Line offered the significant low price and more than 300 drivers took advantage of the generous deal provided by Finish Line station owner Anthony Cuevas and Roly Ramirez, owner of Doral Collision Center and Exclusive Motoring.
"Throughout these 14 days, I could see residents' days become better just by the smiles on their faces, and many said they would take the time to offer the same kindness to someone else" said Commissioner Diaz. "That's what this was all about. We need to come together as a community and look out for one another, not just during a crisis, but every day."
From February 14 to February 27, residents were able to take advantage of several services and goods offered at a discount or for free, such as tax preparation, marriage counseling, and more. The "14 Days of Neighborly Love" initiative was aimed to bring camaraderie and kindness to residents, in hopes they will pass it on to others.
For more information on this initiative, please visit www.facebook.com/14DNL or contact the commissioner's office at 305-599-1200. Below is a list of all the businesses and organizations that took part in this initiative. Thank you to everyone for giving back to the community!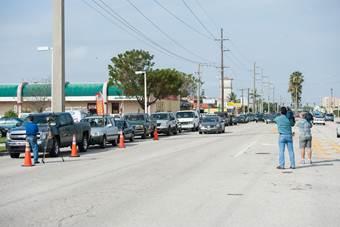 Photo by Ryan Holloway-Miami-Dade County Photographer
Finish Line Gas Station – providing discounted gas at opening and closing of initiative
Doral Collision Center and Exclusive Motoring - co-sponsor of providing discounted gas at opening and closing of initiative
Florida Power & Light (FPL) - $14,000 (total) in school supplies to Title1 schools in District 12
Miami-Dade Expressway Authority (MDX) – giveaway 1000 SunPass® Transponders (500 with $10 credit)
Costa Farms - Donation of approximately $1000 dollars in plants to help improve the landscape at Miami Christian School
Blue Bell Creamery – giveaway ice cream at kick-off event
Publix - $250 in $10 Gift Cards for military families
Unilit Publishing company – 1300 Enfoque magazines for the elderly
Dunn Co. – 1300 pound cakes for the elderly
Coca-Cola Bottling Co. – 40 Cases of 2LTR Cokes
A.F.E. Community Centers – Bags of food for approx. 300 needy families
Lawyer Miryam Barragan – Free immigration legal services from Feb 15-25
Lawyer Marcial Desautu – Free legal services (general) from Feb 18-26
Hairstylist Sharon – Free hairstyling at elderly center
Ig. El Buen Pastor – Health Fair Feb 23
Libres Para Amar Ministries – Free Marriage Counseling
L.A Fitness – 10 passes for 30 days
Huntington Learning Centers – 2 free academic evaluations
CrossFit Doral – 1 week of free classes
Millers Doral Ale House – 10 $20 Gift Cards
Codinach Chiropractic and Wellness – 1 massage (30 mins) and chiropractic consultation
Hyperbaric & vida Spa – 1 Chocolate Facial (1hr)