(Miami-Dade County, FL) --
Twenty-nine baby strollers are lined up in the lobby of the Stephen P. Clark center in Downtown Miami. Four represent the number of autism cases diagnosed in Miami-Dade in April 1991. The other 25 strollers symbolize how many cases will be diagnosed this April.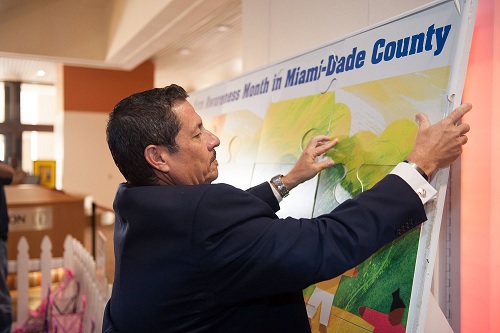 Photo credit: Armando Rodriguez/Miami-Dade County
April is Autism Awareness Month and Miami-Dade County Commissioner Jose "Pepe" Diaz, along with Mayor Carlos Gimenez and members of the Commission were on hand to unveil artwork in the lobby created by students from the South Florida Autism Charter School. There is also an artistic puzzle display representing the community coming together to find a cure for autism, which each commissioner and the mayor took part in completing the puzzle.
The event kicked-off with four young men, who have Autism, singing the National Anthem. Commissioner Diaz also requested a moment of silence for the victims and family members of the tragic bombing that occurred Monday at the Boston Marathon event.
The event guest speakers included: Emily Vogt, a young lady who currently is a senior at American Heritage School in Plantation, Florida and last summer worked as an intern in The Dan Marino Foundation's employment program. She was 6 years old when she was diagnosed with Autism. The other speaker is 15 year old Sam Gelfand, a student at North Broward Prep, where he is a member of the Debate team and is the announcer for the Varsity Baseball team. Sam has Asperger Syndrome and for the past 4 years, he has been an avid speaker on Asperger's Awareness. He recently gave 7 speeches on the matter during his spring break in New Jersey.
"With 25 cases being diagnosed every month, it's important that parents understand what the signs are and what resources are available to them to treat the disorder," said Commissioner Diaz. "Early intervention is key to getting your child the help he or she needs."
Autism Awareness Month came to fruition in Miami-Dade in 2009 as the result of legislation sponsored by Commissioner Diaz. The specially-designated month is designed to increase awareness about autism and treatment, as well as to encourage early testing for children. According to the Center for Disease Control, autism is a complex neurobiological disorder that impairs communication skills and social abilities. There is no known cause or cure for autism, which is estimated to affect 1 out of every 88 children born in the United States.
This year's event was sponsored by Autism Speaks, The Dan Marino Foundation, and the South Florida Autism Charter School.
For more information, please contact Commissioner Diaz's office at 305-599-1200.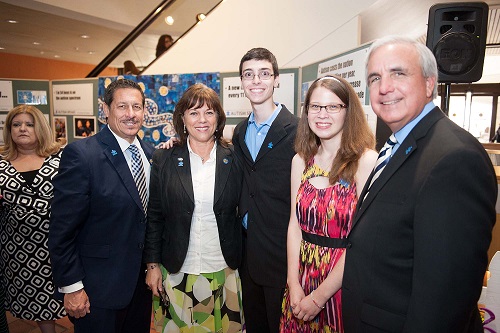 Photo credit: Armando Rodriguez/Miami-Dade County