(Miami-Dade County, FL) --
Miami-Dade County Commissioner Jose "Pepe" Diaz, who serves as the Chairman of the International Trade Consortium Board led a successful business development mission to Costa Rica, April 22-25, 2013. The mission was organized by the Economic Development and International Trade unit of Miami Dade County's Department of Regulatory and Economic Resources (RER). With the support and participation of the Consul General of Costa Rica of Florida, Lorena Sanchez Urpi, the Miami-Dade Aviation Department and PortMiami, the mission had as its objective to strengthen ties between the two communities and to provide 14 private sector participants from South Florida with opportunities to increase their business activities. The mission accomplished this for the South Florida companies which engaged in 128 pre-arranged one-to-one business meetings with 86 Costa Rican companies.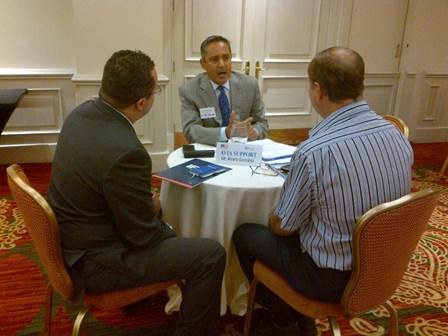 Photo Courtesy of the Miami Dade Department of Regulatory and Economic Resources
"Currently Costa Rica is our 4th largest trading partner with a total trade of over $7.7 billion", said Commissioner Diaz. "I know the billions of dollars Miami-Dade County has invested to improve our international trade infrastructure both at our airport and seaport, including the dredging of the Port Miami to fifty feet and the Port Tunnel Project, will pay off in the long run and further strengthen our trade with Costa Rica".
In addition to promoting Miami-Dade County's unique assets as an international trade hub and as a gateway for Costa Rican trade with the United States, the Miami-Dade government delegation headed by Commissioner Diaz met with the Ministry of the President of Costa Rica, the Municipality of San Jose, the Ministry of Foreign Trade of Costa Rica (COMEX), PROCOMER, AMCHAM Costa Rica, CINDE, CRECEX and the U.S. Embassy in Costa Rica to further strengthen trade, cultural and economic ties between Costa Rica and Miami-Dade County including a sister city affiliation with the Municipality of San Jose, Costa Rica which has been in place since 1988.