Firefighters honored on International FireFighter's Day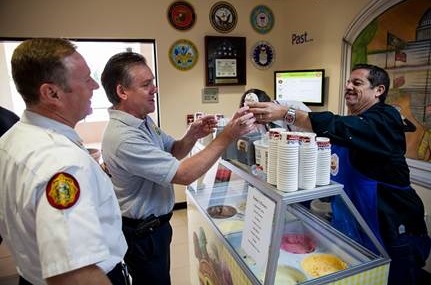 Commissioner Diaz serves Firefighters ice cream
MIAMI, FL – In honor of International Firefighters day, more than 300 firefighters and fire personnel enjoyed some Blue Bell ice cream served by Blue Bell and Commissioner Jose "Pepe" Diaz on May 3 at the Miami-Dade Fire Rescue Headquarters.
"I have a lot of respect for our firefighters, who day in and day out risk their lives", said Commissioner Diaz. "What better way to show our appreciation for their commitment and dedication to our community than by providing them with some scrumptious Blue Bell Ice Cream".
Firefighters enjoyed all sorts of Blue Bell ice cream flavors - Homemade Vanilla, Dutch Chocolate, Strawberry, Cookies n Cream, Rum Raisin, Pistachio Almond, Mango and Pecan Pralines n Cream.
International Firefighters' Day is observed on May 4, after the tragic deaths of five firefighters fighting a large wild fire in Australia on December 2, 1998. International Firefighters Day also recognizes the lives lost, as well as honors fire fighters who risk their lives every day to save life and property.
For more information, please contact the commissioner's office at 305-599-1200.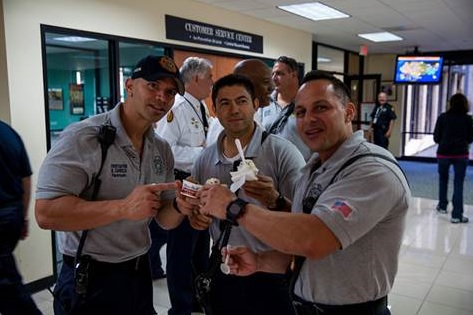 Miami-Dade Firefighters enjoy free ice cream durng International Firefighters' Day