(Miami-Dade County, FL) --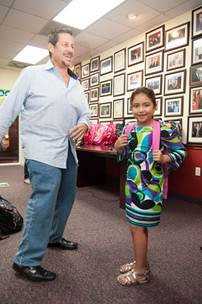 Commissioner Diaz and 6 Year Old Erika Sanchez, who attends Doral Academy Charter Elementary School
Photo by: Armando Rodriguez /Miami-Dade photographer
At his annual back to school event, Miami-Dade County Commissioner Jose "Pepe" Diaz distributed over 300 book bags filled with school supplies to children in schools located in District 12. The event took place on August 15 at the Commissioner's district office.
Children were treated to free snacks and free drinks. Each child also received free Mike Lowell bobble heads, courtesy of the Miami Marlins to commemorate their 10th anniversary 2003 World Series Championship. This year's sponsors included Florida East Coast Industries, Florida Venture Foundation, the Miami Dolphins, the Miami Marlins, ZICO pure premium coconut water, Philly Steaks Sub Shop and Maritza Gutierrez, who donated Maru doll book bags.
"Thanks to the generosity of these sponsors, these children will have the educational tools they need for a productive and successful school year," said Commissioner Diaz.
For more information, please contact Commissioner Diaz's office at 305-599-1200.