Commissioner Diaz and Farm Share feed hundreds
(MIAMI-DADE COUNTY) – About 800 residents received free turkeys, rice, fresh vegetables, bread and canned goods as Commissioner Jose "Pepe" Diaz, Farm Share and the Town of Medley teamed up to feed residents on Feb. 21.
"It was incredibly satisfying to see the looks of gratitude on people's faces as they accepted the bags of food," Commissioner Diaz said. "I commend all the good people from Farm Share, as well as the Town of Medley, for helping us feed so many families."
The effort was part of Commissioner Diaz's "14 Days of Neighborly Love – Inspiring Random Acts of Kindness" initiative to foster good will in the community.
For more information about this initiative, or if you want to get involved, visit us at www.facebook.com/14DNL or on Twitter @14daysofloveMIA. You can also contact Commissioner Diaz's office at 305-599-1200.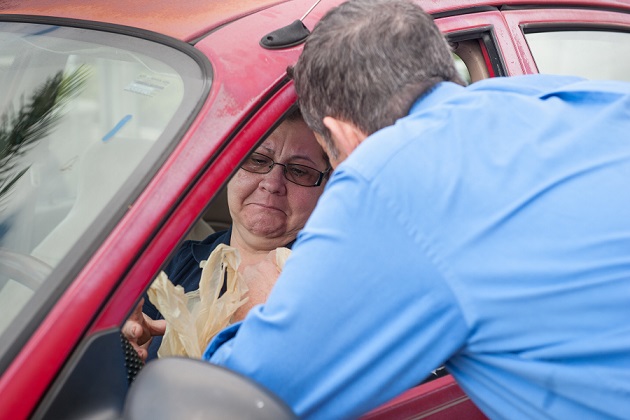 Above: A motorist is overcome with emotion as she accepts a food donation from Commissioner Diaz. Below: Commissioner Diaz and Farm Share distribute free food to motorists in front of Medley Town Hall.
(Photos by Armando Rodriguez / Miami-Dade County photographer)