Residents had a blast at District 12 Spring Festival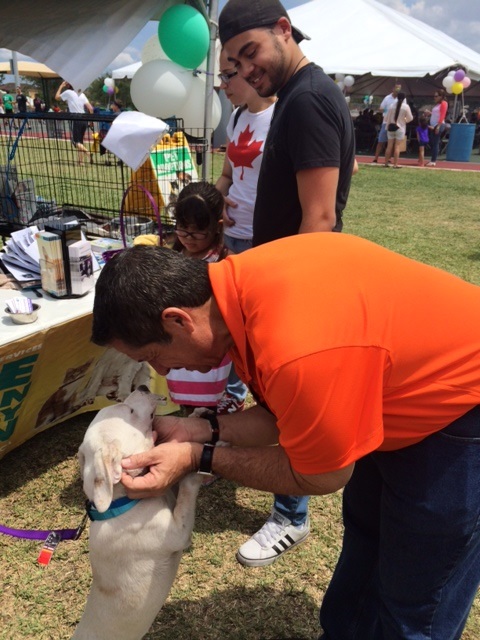 Commissioner Diaz greets the newly adopted puppy of Alan Alberto Hernandez Olivo and his family (rear) at the District 12 Spring Festival.
(Photos by Armando Rodriguez / Miami-Dade County)
(MIAMI-DADE COUNTY) – More than 2,000 residents enjoyed some fun in the sun at County Commissioner Jose "Pepe" Diaz's annual District 12 Spring Festival on May 3 at North Trail Park. The event included an Easter egg hunt, free food, pet adoptions, games and entertainment for the whole family, as well as a ribbon-cutting for the park's new fitness court, which features state-of-the-art outdoor gym equipment.
Four dogs from the County's Animal Services Department found new homes, including a 4-month-old Labrador-Retriever mix that was adopted by Alan Alberto Hernandez Olivo and his family after Commissioner Diaz made a personal pitch for the puppy from the stage.
This year's District 12 Spring Festival was sponsored by Pepsi, Walmart Supercenter at 8651 NW 13th Terrace in Doral, Blue Bell Ice Cream, Crystal Springs Water, Miami-Dade Parks Foundation, Cemex, Florida East Coast, MCM, Holland and Knight, Waste Pro, Electrical Union, Floridian Partners, and LSN Partners.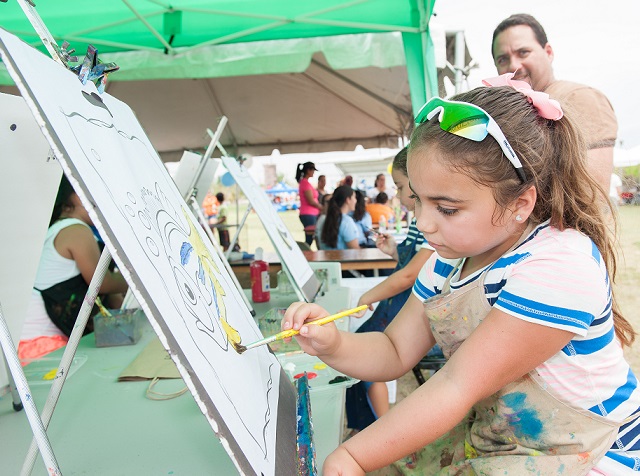 A young girl tries her hand at art at the Spring Festival.