Commissioner Diaz congratulates first veteran to complete Veterans Treatment Court program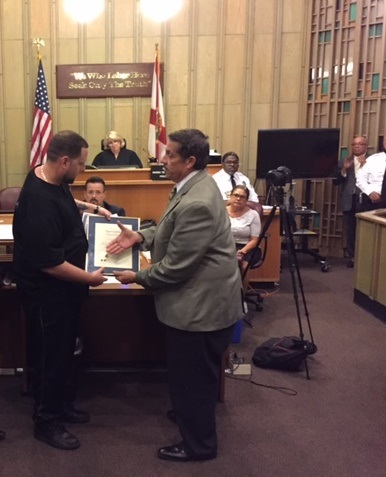 MIAMI-DADE - On July 19, Commissioner Diaz was present to congratulate the first veteran to complete the Veterans Treatment Court program. In January 2017, Diaz helped launch the first Veterans Treatment Court in Miami-Dade, which diverts veterans from the traditional criminal justice system and provides them with the tools needed to successfully reintegrate back into civilian life.

The Veterans Treatment Court has been a top priority for Commissioner Diaz, who served in the U.S. Marine Corps. The Miami-Dade Military Affairs Board, which he chairs, worked with the United States Department of Veterans Affairs, the Miami Veterans Health Administration, the Eleventh Judicial Circuit, and the South Florida Behavioral Health Network to create the program and also recently committed $75,000 as the matching component for a federal grant.