Miami-Dade County condemns Maduro regime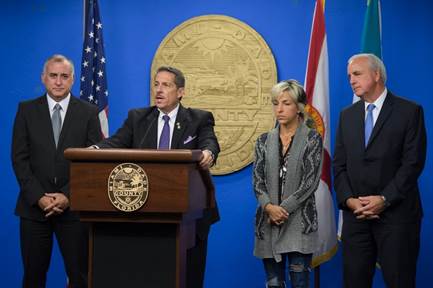 Commissioner Jose Pepe Diaz speaks at a press conference following the special meeting to condemn the Venezuelan government. He is joined, from left, by County Commission Chairman Esteban Bovo, Jr.;
Daniela Capriles, the daughter of Caracas Mayor Antonio Ledezma; and Miami-Dade Mayor Carlos A. Gimenez.
MIAMI – The Miami-Dade County Commission on Aug. 7 adopted a resolution sponsored by Commissioner Jose "Pepe" Diaz to formally condemn the recent elections in Venezuela amid widespread charges of fraud.
The special meeting, called during the Commission's August recess, was requested by Commissioner Diaz following Venezuela's July 30 elections creating a national constituent assembly to rewrite the South American nation's constitution – elections in which only President Nicolas Maduro's handpicked candidates appeared on the ballot.
"I hope this action we taking here today resonates throughout the world so that the people fighting in the streets of Venezuela know we hear them and support them and we are with them," Commissioner Diaz said. "I want to thank all my colleagues and Mayor Gimenez for their support in standing up for the human rights of our neighbors and friends in the Venezuelan community."
Venezuela Supreme Court Magistrate Alejandro Rebolledo; Venezuelan journalist Rafael Poleo; and Daniela Capriles, the daughter of Caracas Mayor Antonio Ledezma, attended the meeting to speak about the Maduro regime's human rights abuses.
Commissioner Diaz's resolution also condemns Venezuela's failure to cooperate with international counterterrorism efforts and urges the Trump administration to grant Temporary Protected Status to Venezuelans living in the United States. Commissioners and Miami-Dade County Mayor Carlos Gimenez also signed on to a letter to President Trump condemning the Maduro regime.
"The Maduro regime's silencing and jailing of political opponents, rampant human rights violations, and overhaul of Venezuela's system of government is at significant odds with the fundamental values of democracy championed by the United States," the letter states.
Commissioner Diaz's district includes Doral, which is home to the largest concentration of Venezuelans in the United States.