Commissioner Diaz helps get kids ready for school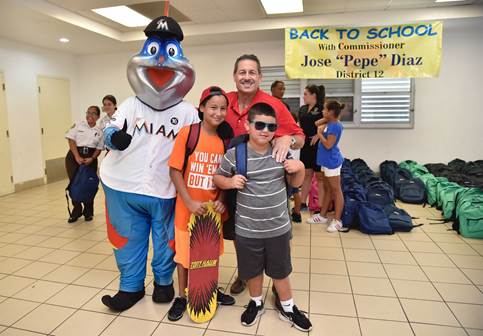 Commissioner Diaz poses with Bill the Marlin and students at his back to school event. (Photos by Armando Rodriguez / Miami-Dade County)
MIAMI-DADE COUNTY – Hundreds of children from District 12 received new backpacks filled with school supplies at a back-to-school book bag giveaway event hosted by Miami-Dade County Commissioner Jose "Pepe" Diaz on August 5th at North Trail Park.
Each backpack came equipped with binders, spiral notebooks, composition notebooks, packs of paper, pencil pouch, markers, crayons, highlighter, White Out, scissors, pens, pencils, a ruler and glue. The backpacks and school supplies were donated by Florida East Coast Industries.
Florida Beverage Association and Dr. Pepper Snapple Group donated water, t-shirts and sun-glasses. Walgreens provided antibacterial products.
"It's always great to see kids excited about getting back to school ready to learn," Commissioner Diaz said.
Families also enjoyed snow cones, cotton candy, face painting, bounce houses and pet adoptions.