District 12 seniors had a blast at annual Christmas luncheon with Latin celebrities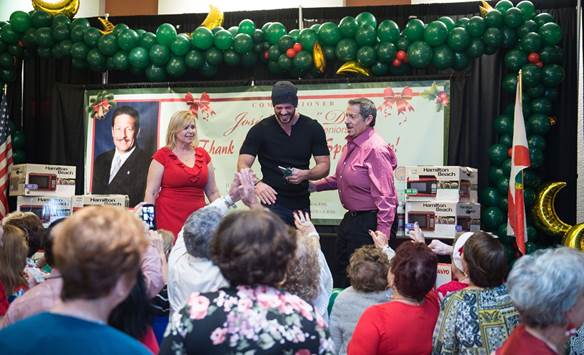 Commissioner Diaz introduces telenovela actor William Levy to the enthusiastic crowd at his annual Christmas celebration.
(Photos by Armando Rodriguez / Miami-Dade County)
MIAMI-DADE COUNTY – Nearly 1,300 District 12 seniors had a lot to smile about as they danced and took selfies with several celebrities who made an appearance at the annual Christmas celebration hosted by Commissioner Jose "Pepe" Diaz on Dec. 6 at the Doubletree Miami Mart Airport Hotel.
Some of the celebrities included telenovela actor William Levy, Latin singer and actor Jencarlos Canela, singer Hansel Martinez from Hansel y Raul, singer Carlos Oliva and Cuban musician Roberto Torres. The event also featured small gifts for attendees and a raffle of gift cards, televisions and microwaves.
"This year, my seniors went wild with the appearance of William Levy," Commissioner Diaz said. "I am extremely grateful to William and all the celebrities that took time out of their schedule to come and spend time with my elderly residents – for them it really was their Christmas present."
Some of the sponsors of the event included Jose Milton & Associates, Florida East Coast Industries, Lennar, Sedano's, MCM, The Graham Companies, CEMEX, Codina (downtown Doral), United Property Management, H & R Paving, ADA Engineering Inc., Waste Management, IBEW LU 329, International Atlantic, Transportation America, International Atlantic, Police Benevolent Association Dade County (PBA), Master Concession Air LLC, and Bercow Radell, Fernandez & Larkin.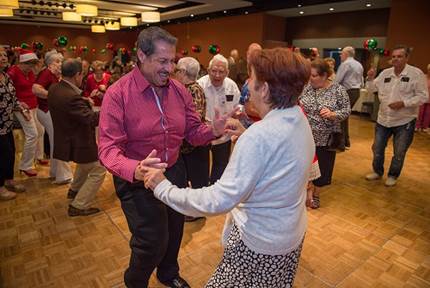 Commissioner Diaz dances with an attendee at his annual Christmas celebration with seniors.