County Commission supports free elections in Cuba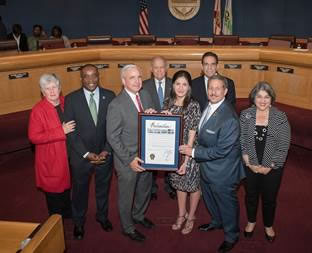 Mayor Carlos Gimenez, Commissioner Jose "Pepe" Diaz and members of the Board of County Commissioners present Cuban pro-democracy activist
Rosa Maria Paya Acevedo with a proclamation honoring her work on human rights.
(Photo by Ryan Holloway / Miami-Dade County)
MIAMI-DADE COUNTY – The Miami-Dade County Commission on Feb. 6 approved a resolution sponsored by Commissioner Jose "Pepe" Diaz urging the U.S. State Department, the United Nations, and the Organization of American States not to recognize any transition of power in Cuba made without free and multiparty elections and to support the self-determination of the Cuban people.
This March, Cuba is expected to select a new president to replace Raul Castro in elections that are widely expected to be a sham, with no opposition candidates allowed on the ballot.
"It's time for the Castro dictatorship to end and for the Cuban people to decide their own future in a free, open, and multiparty presidential election," Commissioner Diaz said. A
lso at Tuesday's meeting, Commissioner Diaz presented Cuban pro-democracy human rights activist Rosa María Payá Acevedo with a proclamation honoring her work as president of the Latin-American Youth Network for Democracy and coordinator of Cuba Decide, an international campaign that seeks change through free elections in Cuba.