Commissioner Diaz honors veterans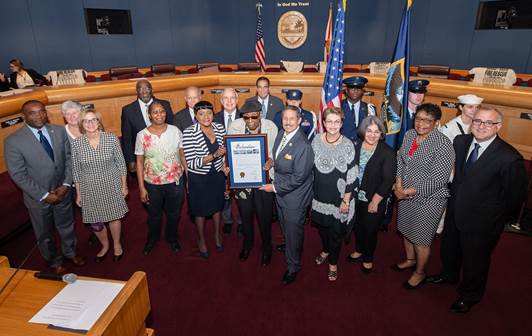 WWII veteran Robert White is honored at the Nov. 8 County Commission meeting.(Photos by Ryan Holloway / Miami-Dade County)
MIAMI-DADE COUNTY – In honor of Veterans Day, Miami-Dade County Commissioner Jose "Pepe" Diaz recognized two veterans at the November 8 County Commission meeting: World War II veteran Robert White and Purple Heart recipient Captain Paul Amato.
Robert White, 95, who was part of Operation D-Day, received many decorations and citations for his service including the American Theatre Ribbon, the American Defense Service Medal, Purple Heart and the WWII Victory Medal.
United States Army Captain Paul Amato is a member of the Military Order of the Purple Heart Veterans.
Commissioners also approved a resolution sponsored by Commissioner Diaz to proclaim Miami-Dade County as a Purple Heart County, in recognition of Purple Heart recipients' service and sacrifice. The Purple Heart, which is awarded to members of the U.S. Armed Forces who have been wounded or killed in combat, is the nation's oldest military award, established in 1782 by George Washington. According to the United States Census Bureau, Miami-Dade County is home to over 50,000 veterans, including Purple Heart recipients.