Commissioner Bovo celebrates National Library Week in Miami Lakes
As part of the celebrations for National Library Week, Commissioner Esteban Bovo Jr. and children from the Miami Lakes area made reading a top priority on Thursday, April 11, 2013 at the Miami Lakes Branch Library located at 6699 Windmill gate Road. Commissioner Bovo read "Library Mouse" and "Happy Birthday to Me" to children between the ages of 3-to-5 and acted out scenes from the books during storytelling.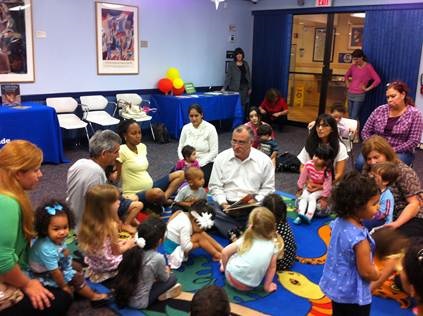 National Library Week is an annual celebration of the contributions of our nation's libraries and librarians. The Miami-Dade Public Library System is celebrating from April 3-12 by having community leaders read to children at various libraries around the county.
"Children are the future of our community, as such, it is extremely important to teach them the importance of reading and education," said commissioner Bovo. "This event gave me the opportunity to share the benefits of reading with them."
For more information on events happening near your library, visit the Miami-Dade Public Library System's website at www.mdpls.org.