Commissioner Bovo helps deliver food to over 1,000 families
Miami, FL – Well over a thousand families will enjoy a plentiful Thanksgiving feast thanks to last Saturday's food distribution at Amelia Earhart Park in Hialeah.
Commissioner Esteban Bovo Jr. teamed up with State Sen. René García to give away food to more than 1,000 families, including fresh produce and 350 turkeys.
Braving the rains to help out were more than 200 volunteers from the Lions Club of Hialeah, the Women's Club of Hialeah, Hialeah Senior High School's DECA and National Honor Society, Hialeah-Miami Lakes Senior High School's Sorrota Organization, and Girl Scout Troop 338.
Sponsors included Farm Share, the Miami Dolphins, the Miami-Dade Expressway Authority, Beauty Schools of America, Walmart, Sedano's Supermarket, Miami-Dade County Fire Department, the Miami-Dade County Police Department, HNTB Corporation, Miami Tech Inc. and Excalibur.
"I want to thank all the volunteers and sponsors who helped us feed so many families, and I wish all Miami-Dade residents a wonderful holiday filled with love and happiness," Commissioner Bovo said. "As we enjoy our feasts this Thanksgiving, let's give thanks for all of our blessings, small and large."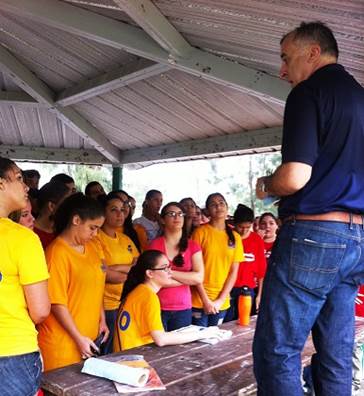 Commissioner Bovo directs volunteers at the food distribution (above), and volunteers work in the rain to feed families (below).