Commissioner Bovo visits Miami Lakes fire station as part of his "Working for You" campaign
Miami, FL – Miami-Dade County Commissioner Esteban Bovo Jr. visited County Fire Station #1 in Miami Lakes on Monday, Dec. 2 as part of his "Working for You" campaign.
Commissioner Bovo toured the facility with Chief Fire Officer Felipe Osaba, helped answer emergency calls, and joined firefighters in responding to several incidents, including a rolled over car on Palmetto Expressway and a tragic shooting in the Opa-locka area.

"After spending a day with Miami-Dade firefighters and experiencing the day-to-day operations first-hand, my respect and gratitude has grown even more for the heroic work they do every day," Commissioner Bovo said

Commissioner Bovo began his "Working for You" campaign in May 2013. Since then, he has visited several County departments – including the Animal Services, Water and Sewer, and Police – listening and acquiring a better understanding of the needs and services provided in our community.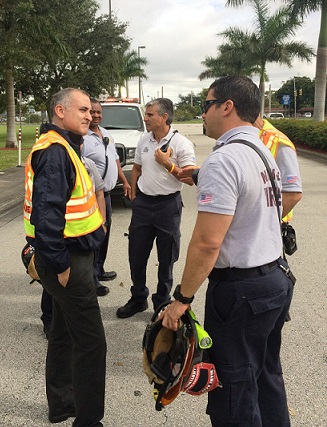 Commissioner Bovo recently joined firefighters on several emergency calls as part of his "Working for You" campaign.
(Photos by Carlos Fleites / Commissioner Bovo's office)