Mega pet adoption event and fundraiser a success
(MIAMI-DADE, FL) – Dozens of adorable dogs and cats have found loving new homes thanks to last weekend's "Open Your Heart and Your Home" mega pet adoption event and fundraiser sponsored by County Commissioner Esteban Bovo, Jr., the County Animal Services Department, and the County Parks, Recreation and Open Spaces Department.
More than 50 animals were adopted, 26 dogs and 32 cats were spayed or neutered, and more than $1,000 was raised for the County's Animal Services Trust Fund to improve animal services in Miami-Dade County. The Feb. 8 event, which was held at Amelia Earhart Park, also featured low-cost vaccines, microchips and tags.
Participants included the Fire Department of Hialeah, Miami-Dade Expressway Authority, Senator Marco Rubio, State Senator René García, Catholic Hospice, Fanci Pooch DaySpaw, Blue Bell Ice Cream, Handmade Backpacks, Pets Supermarket, Miami Coalition Against Breed Specific Legislation, Girl Scout Service Unit 42, IFAS 4-H Youth Development and the Miami-Dade County Elections Department.
"I want to thank all the sponsors, participants and volunteers who helped make this event such a great success, as well as everyone in the community who showed they cared by taking home a wonderful pet and opening their hearts to improve animal welfare in Miami-Dade County," Commissioner Bovo said.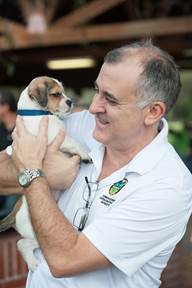 Above, Commissioner Bovo holds up Benjamin, the puppy he adopted at the mega pet adoption event.
(Photos by Armando Rodriguez / Miami-Dade County photographer)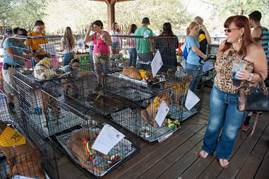 Event attendees check out adoptable pets.