Chairman Esteban Bovo Jr. and Vice Chairwoman Audrey M. Edmonson sworn in to lead County Commission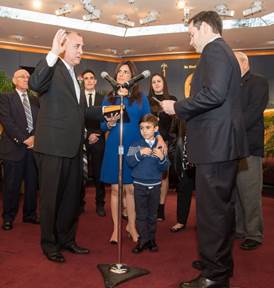 U.S. Sen. Marco Rubio, right, administers the oath of office to newly installed
County Commission Chairman Esteban L. Bovo Jr.
(Photos by Armanado Rodriguez / Miami-Dade County)
MIAMI-DADE – County Commissioners Esteban Bovo Jr. and Audrey M. Edmonson on Jan. 9 were sworn in as Chairman and Vice Chairwoman, respectively, of the Miami-Dade County Commission. The ceremony, held at the Commission Chamber, was hosted by renowned Univision journalist Sandra Peebles.
Accompanied by his wife Viviana Bovo, Chairman Bovo was sworn in by U.S. Senator Marco Rubio. Accompanied by her family, Vice Chairwoman Audrey Edmonson was sworn in by Clerk of Courts Harvey Ruvin. Chairman Bovo's daughter, Sofia Bovo, sang the National Anthem joined by the Combined Miami-Dade County Honor Guard.
Following the ceremony, Chairman Bovo announced the new Commission committee structure and member assignments. In addition to creating seven jurisdictional committees, the Chairman announced the creation of a Chairman's Policy Council charged with addressing issues of countywide concern.
Clerk of the Courts Harvey Ruvin also was sworn in at the ceremony for his seventh term as Clerk, highlighting a career in elected public service spanning four decades.
At left, County Commissioner Audrey M. Edmonson is sworn is as Vice Chairwoman by Clerk of the Courts Harvey Ruvin. At right, Chairman Esteban Bovo Jr. administers the oath of office to Harvey Ruvin, who begins his seventh term as Clerk of the Courts. They were both joined by their families.