Chairman Esteban Bovo Jr. praises latest PortMiami economic impact numbers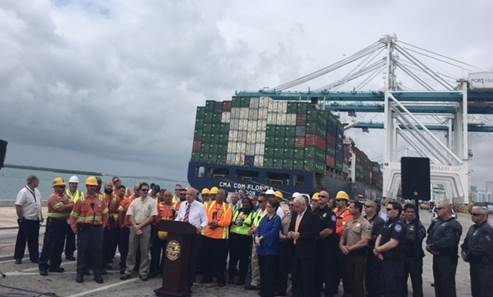 Mayor Carlos Gimenez announces recent economic impact numbers at PortMiami.
MIAMI-DADE – Miami-Dade County Commission Chairman Esteban Bovo Jr. applauds a newly released study on the economic impact of the County's investments to transform PortMiami into a major global hub.
According to an economic impact study released by County Mayor Carlos A. Gimenez on April 17, the total number of jobs at PortMiami grew by 116,548 in the last four years, while the total value of economic activity increased by $12.8 billion – driven by an increase of nearly 1 million tons of containerized cargo handled at the Port last year and a 1.4 million increase in cruise passenger traffic since 2012. PortMiami is an important economic force in the community, contributing $41.4 billion of total economic activity and supporting 324,352 jobs in the state of Florida.
"These statistics show that our investments to make PortMiami one of the world's premier seaports are paying large dividends," Chairman Bovo said. "PortMiami is a major economic engine for Miami-Dade County that supports hundreds of thousands of jobs and contributes billions of dollars to our local economy."
Commissioner Sosa stated: "We also have great leadership and employees at PortMiami who should be commended for their hard work and dedication."
The County, in partnership with the state, has completed $1.3 billion in infrastructure improvements to the Port over the last several years – including the deepening of the channel and acquisition of new cranes to accommodate post-Panamax cargo ships, as well as the construction of a tunnel providing direct access between the cargo terminals and I-395 and I-95, and the modernization of on-dock intermodal rail.