County Commissioners and Mayor condemn growing repression in Venezuela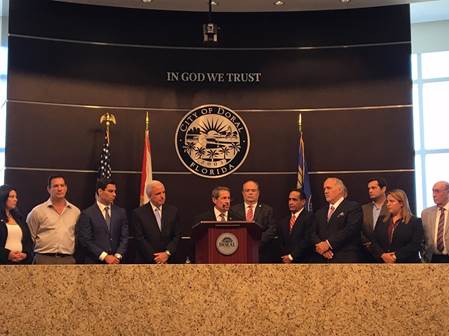 Miami-Dade County Commissioner Jose "Pepe" Diaz speaks at the press conference condemning Venezuela repression.
County Commissioner Joe A. Martinez, County Mayor Carlos A. Gimenez and other local officials also attended the press conference.
MIAMI-DADE – Miami-Dade County Commission Chairman Esteban Bovo Jr. is joining local officials in condemning the growing political repression in Venezuela.
"As Chairman of the Miami-Dade County Commission, I wish to express my solidarity with those demonstrating against oppression during this difficult time for the people of Venezuela. As a Cuban American whose family has suffered the abuses of totalitarianism, I stand with all Venezuelans, including our large Venezuelan exile community in Miami-Dade County, to condemn the atrocities taking place at the hands of the Maduro regime. We must support the restoration of democracy, the respect for human rights and the return of the rule of law," Chairman Bovo said in the provided statement that was read at a press conference held at the City of Doral Government Center on April 24.
The press conference was attended by County Commissioners Jose "Pepe" Diaz and Joe Martinez, County Mayor Carlos A. Gimenez and other local officials.
"We must show our solidarity with the people of Venezuela as the Maduro regime continues to march further down the road of authoritarianism and the violent repression of protesters and political opponents," Commissioner Diaz said.
"Miami-Dade County stands with the Venezuelan people as they demand a return to democracy and respect for human rights. Our community serves as a beacon of hope for oppressed people throughout the world, and our leaders will continue to stand with all those who seek to live in freedom," added Mayor Gimenez.
Nearly 80,000 Venezuelans call South Florida home, including 50,000 in Miami-Dade County.