Chairman Esteban Bovo Jr. and Miami-Dade Board of County Commissioners honor Roberto Lanzetti, Vianca Diaz and Thalia Rodriguez for saving the life of Major Ricky Carter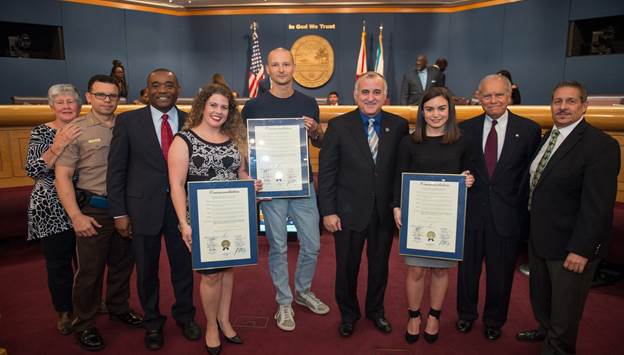 From left, Commissioner Sally Heyman, Assistant Director of Miami-Dade Police Department Freddy Ramirez, Commissioner Jean Monestime, Vianca Diaz, Roberto Lanzetti, Chairman Esteban Bovo, Jr., Thalia Rodriguez, and Commissiones Javier Souto and Jose "Pepe" Diaz at the May 16 Commission meeting
(Photo by Ryan Holloway / Miami-Dade County)
MIAMI-DADE – Miami-Dade County Commission Chairman Esteban Bovo Jr. and the Miami-Dade Board of County Commissioners honored Vianca Diaz, Roberto Lanzetti and Thalia Rodriguez in a special commendation for saving the life of Miami-Dade Police Major Ricky Carter. The presentation took place during the May 16 County Commission meeting.
Major Carter, a 21-year police veteran, was critically injured in an accident early Sunday morning on May 7 on I-75. Rodriguez, a 17-year old City of Hialeah Fire Cadet and Westland Hialeah Senior High School student; Diaz, a registered nurse; and Lanzetti were the first to arrive on the scene and provided lifesaving efforts to Carter as they waited for the paramedics.
"There are angels among us and deserve all the recognition we can give," Chairman Bovo said. "These good Samaritans collectively save Major Carter's life."
The Board of County Commissioners also passed a resolution to allow County employees to donate accrued annual and holiday leave time to Carter.