Getting 2 Zero Miami-Dade Campaign kicks off at Government Center Station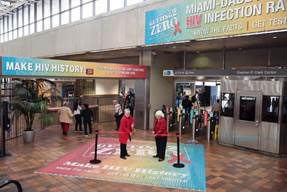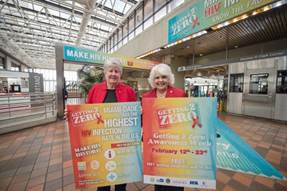 County Commissioner Sally A. Heyman and Health Officer Dr. Lilian Rivera of the Florida State Health Department at the Getting 2 Zero kickoff ceremony.
(Photos by Ryan Holloway / Miami-Dade County)


MIAMI – Miami-Dade County Commissioner Sally A. Heyman and Florida Department of Health Administrator Dr. Lillian Rivera participated in a station domination ribbon cutting ceremony to mark the kickoff of the Getting 2 Zero Miami-Dade Awareness Campaign. The event took place Feb. 6 at the Government Center Metrorail station.
Miami-Dade County has the highest HIV infection rates in the U.S. There are 26,975 people living with HIV/AIDS in the County, which is one in 85 adults. For that reason, Commissioner Heyman sponsored a resolution creating the county-wide awareness campaign which was approved by the Board of County Commissioners. With the collaboration of the Florida Department of Health, the goal is to get to zero new HIV/AIDS cases, zero AIDS related deaths, and zero discrimination.
For more information, contact Erika Coello, from Florida Department of Health Department at [email protected] or Rene Diaz, Community Advocacy Executive Director at [email protected].