More than a 100 potential candidates participate in the Law Enforcement and Emergency Services Career Fair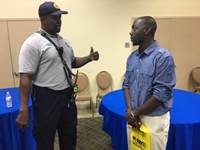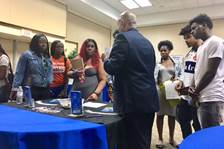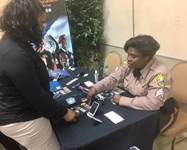 At left, Miami-Dade Firefighter explains how the recruitment process works; at center, a Miami-Dade Human Resources Department representative addresses a group of students interested in joining the County;
at right, a Miami-Dade Policer points out to a potential candidate the career benefits.
(Photos by Griselle Marino / Miami-Dade County)
MIAMI – The Black Affairs Advisory Board under the Office of Community Advocacy cohosted the annual Law Enforcement and Emergency Services Career Fair on Feb. 22 at Florida Memorial University in Miami Gardens. Close to 150 Miami-Dade and Broward residents attended the career fair and were given the opportunity to learn more about how to enter these rewarding careers.
More than 40 agencies including the Federal Bureau of Investigation (FBI), Florida Department of Law Enforcement (FDLE), Miami-Dade Police, Fire, Corrections, Miami Beach Police, Miami Police, Miami Gardens Police, Hollywood Police, Pinecrest Police, and Nova University's Public Safety Services participated. Many agencies are currently hiring and we urge you to check their website for the specific minimum qualifications as they vary.
For more information, please contact Black Affairs Advisory Board Director Retha Boone at 305-375-4606. The Office of Community Advocacy (OoCA) is charged with making Miami-Dade County "One Community" that embraces our diverse enriched and unique population. Follow us on Instagram and Twitter @MDCAdvocacy.