Thousands of Miami-Dade County volunteers will participate in the biggest spring cleaning event of the year: The Biscayne Bay Cleanup Day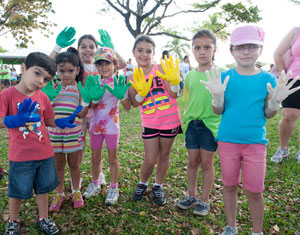 (MIAMI, April 14, 2014) The Baynanza Biscayne Bay Cleanup Day returns on Saturday, April 26, and Miami-Dade County residents are invited to be part of the biggest spring cleaning event of the year. Now in its 32nd year, this event brings together the community to help restore and clean Biscayne Bay's shoreline at 23 locations from 9 a.m. - noon. Volunteers at all 23 cleanup sites will receive a free commemorative T-shirt, and community service hours are available to all students who participate. Also, there will be entertainment, music, food, and engaging environmental activities for the volunteers to enjoy at this year's main cleanup site, the Deering Estate at Cutler located 16701 SW 72 Avenue in Palmetto Bay.
The Miami-Dade County Department of Regulatory and Economic Resources (RER), Division of Environmental Resources Management (DERM) organizes this event with contributions from sponsors and other county agencies every April.
"Baynanza is Miami-Dade's way of celebrating the environment and inviting the community to learn how to protect it while having a great time," said Mr. Lee N. Hefty, RER Assistant Director for DERM. "Biscayne Bay Cleanup Day is one of the highlights among many environmental activities that take place in March and April as part of Baynanza, and we invite our community to get involved by joining us at Biscayne Bay Cleanup Day or by participating in any of the events that Baynanza has to offer each year."
Last year during the Biscayne Bay Cleanup Day, more than 6,500 community volunteers helped to remove almost 41 tons of trash from the shoreline and nearby islands of Biscayne Bay. Out of the 40 plus tons collected, more than seven tons of trash were sent to a recycling facility for processing. The first Biscayne Bay Cleanup Day took place in 1982, and in the past 10 years alone, almost 74,000 volunteers have picked up more than 659,000 pounds of trash from Biscayne Bay. Yet, there is still more work to be done. Biscayne Bay Cleanup Day is fun, free, and very rewarding!
For more information, visit us online at www.miamidade.gov/environment or call Luis Espinoza at 305-372-6770. The Baynanza 2014 Calendar of Events is available by calling 305-372-6784.