(Miami-Dade County, FL) --
Miami-Dade Fire Rescue's (MDFR) Training Division recently took delivery of a state-of-the-art driving simulator. MDFR is the first and only fire rescue department in Miami-Dade County to own the Doron 660 Driver Simulator. This technology will allow firefighters to enhance their driving skills as well as increase their confidence when operating a fire engine. On Tuesday, March 12, 2013, a demonstration will take place at the MDFR Training Center located at 9300 NW 41 ST in Doral at 10 a.m.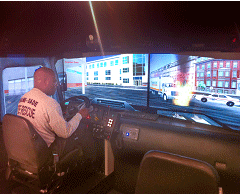 The Doron 660 is capable of simulating 102 different computer generated scenarios and will give the instructor the ability to modify and customize each one via a computer console. The simulator is encased in a life-size fire engine shell. Firefighters can respond to situations ranging from driving in the rain at night to a barn fire to driving to a plane crash on a busy highway in the snow. The new simulator will allow drivers to practice driving a fire truck in a controlled, safe environment without the fuel consumption and wear and tear that comes with training on the road.