(Miami-Dade County, FL) --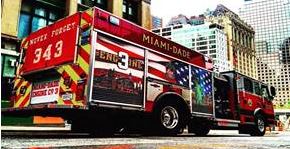 Miami-Dade Fire Rescue (MDFR) will be honoring those who lost their lives on September 11, 2001, at its 9/11 Tribute Truck Dedication Ceremony in front of MDFR "Heroes of September 11" Station #3, 3911 SW 82 AVE on Friday, September 11, 2015, beginning at 8 a.m.
On June 28, 2002, MDFR dedicated Engine Company 3 as a tribute to show our commitment and support of Fire Department City of New York (FDNY) after the tragic events of 9/11. Earning the nickname "Big Red," the then new engine was outfitted with a white over red paint scheme to resemble FDNY apparatus moving away from MDFR's traditional lime green color. This new engine proudly displays a unique graphic layout that was designed specifically for MDFR to recognize FDNY and honor the ultimate sacrifice made by so many of our brothers and sisters. Included in the new scheme is the honor of carrying the 343 names of those firefighters who perished on 9/11.
In accordance with MDFR's tradition of conducting a truck push-in, we will add to our heritage by including a blessing of our new fire truck, water transfer, wheel wash, and gear transfer during the ceremony.
For more information, please contact MDFR's Public Affairs Bureau at 786-331-5200.