Miami-Dade Fire Rescue (MDFR) hosted its first advanced life support (ALS) competition on Saturday, April 20, 2013at the Miami Dade Fire Rescue Training facility located in Doral, Florida.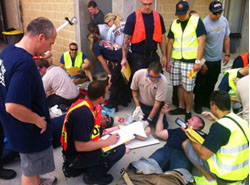 The MDFR Invitational ALS Competition pitted teams from throughout South Florida in a fierce battle for the inaugural championship trophy. MDFR Medical directors, Dr. Donald Rosenberg and Dr. Marc Grossman, along with MDFR's ALS team of international-champion-paramedics, developed all of the emergency scenarios that tested the knowledge, skill and efficiency of the teams of firefighter-paramedics that participated. When the dust settled, Team "Port Raton" comprised of firefighters from Boca Raton and Port Orange Fire Rescue Departments were crowned champions. Teams from Miramar Fire Rescue and Margate Fire Rescue came in second and third respectively.
ALS competitions are conducted to allow the best and brightest from fire rescue and emergency medical service (EMS) agencies around the world to compare their skills against each other. More importantly, this competitive environment is a breeding ground for cutting edge innovations in EMS.