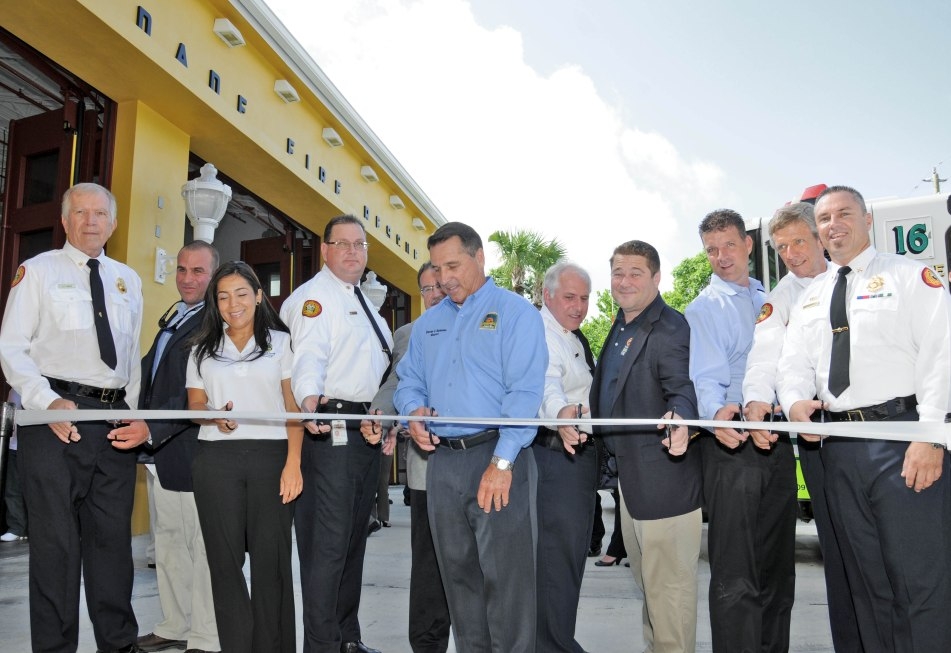 Photo credit: Eric Goodman
Miami-Dade Fire Rescue (MDFR) celebrated the opening of Homestead Station #16 on Tuesday, August 28, 2012. Homestead Mayor Steven C. Bateman and representatives from the Office of Commissioner Dennis C. Moss, Commissioner Lynda Bell, and Commissioner Jean Monestime were in attendance as well as the station's architect Osvaldo Landera from Landera Associates, P.A. and general contractor Joe Fernandez from JCON Group, Corp. MDFR's Executive Staff led by Assistant Fire Chief David Downey rejoiced during the occasion. The new station is located at 325 NW 2 Street in Homestead.
The festivity included a ribbon-cutting ceremony and a plaque unveiling. Guests had the opportunity to tour the fire station, which houses advanced life-support rescue units.
Station #16 is a 12,038-square-foot triple-bay facility that can accommodate up to 12 firefighters. The new facility will help to increase service, response time, and efficiency. The opening of Station #16 enables Miami-Dade County to provide for the health, safety, and welfare of the residents of Homestead and its surrounding communities.