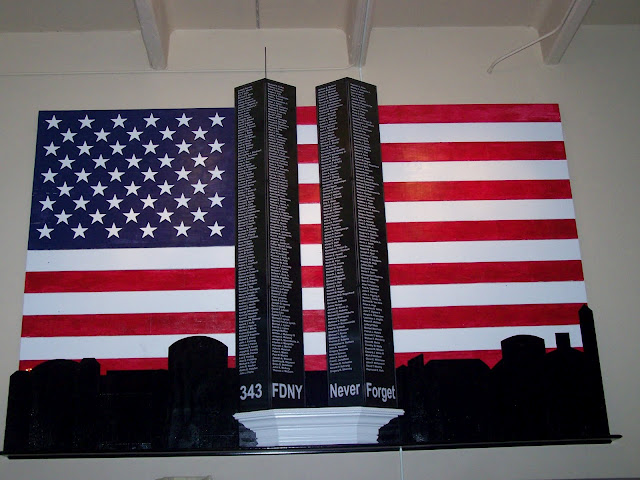 Miami-Dade Fire Rescue's Firehouse 61 "Never Forget" memorial to the 343 FDNY firefighters that lost their lives at The World Trade Center on September 11th began as a tribute between Firefighter Claude Audette and Lt. Harold Schappell who wanted to pay homage to their fallen brothers that made the ultimate sacrifice on that day in 2001.
It became a labor of love that seemed to consume them both on and off duty until the memorial was finally finished, approximately three months and several hundred hours later of designing, constructing, lighting and finish work. The last pieces were placed on the memorial on September 11th, 2011, exactly 10 years to the day of the worst day in our country's and the fire service's history.

The memorial is an illuminated 9-foot tall; 14-foot wide American flag behind 9-foot tall 3D "Twin Towers" raised on a pedestal and fronted in Plexiglas containing the names of all 343 FDNY firefighters that died at Ground Zero and skyline of the city of New York at the sides of the towers.
The project also couldn't have been completed without the help of the Walter Prio, owner of Fast Signs on Flagler Street in Miami who donated the Plexiglas front and printing of the names that adorn the Towers.