On Sunday, May 11, 2012, Miami-Dade Fire Rescue's (MDFR) Advanced Life Support (ALS) Competition Teams won both first and second places at the Boca Raton Emergency Medical Services (EMS) Challenge.  MDFR's team defeated 13 teams from around the state. The previous week, MDFR, for the third year in a row, took home the championship trophy at the 2012 James Malcolm ALS competition which was hosted by City College in Broward County. Team members received the honor of retiring the trophy with their third consecutive win.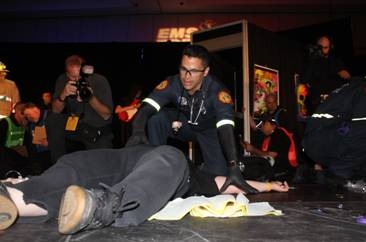 Firefighter Bernando Bernardo assesses a patient during the competition

ALS Competitions are held annually across the nation to test the knowledge and skills of EMS providers. Teams are presented with an emergency scenario during which they must provide care to simulated patients who are critically ill or injured in order to accumulate points. Points are awarded for proper care according to national standards and guidelines. The techniques learned by the ALS teams through competition are brought back to the community to provide better care to the public.
This year's competition featured a mass casualty incident in which the three member team treated 27 victims in 30 minutes. Some of the challenges included gunshot wounds, cardiac, and environmental emergencies.
On Thursday, May 31, 2012, MDFR's ALS team along with a squad from Flagler County, FL, will represent America and compete against 19 teams from around the world at an international event in Prague in the Czech Republic. These dedicated firefighters endure hundreds of hours of practice and travel throughout the United States and the world at their own expense. 
For more information, please contact MDFR's Public Affairs Bureau at 786-331-5200.