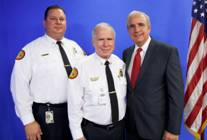 From left to right - Chief David Downey, Chief William Bryson, Mayor Carlos Gimenez
Video: http://miamidade.granicus.com/MediaPlayer.php?view_id=2&clip_id=2326
(MIAMI, January 17, 2013) – Miami-Dade Fire Rescue (MDFR) announced today the retirement of Fire Chief William W. Bryson in conjunction with the appointment of Chief David Downey as MDFR's newest Fire Chief, effective February 2, 2013. The announcement was made by Miami-Dade County Mayor Carlos Gimenez at an earlier press conference. Chief Downey's appointment is set to go before the Board of County Commissioners in the upcoming days for confirmation. Chief Downey will be the 13th fire chief to head the department.
Chief David Downey is a 30-year veteran of the fire service, having spent 25 of those years with MDFR. Beginning his MDFR career in 1988, he worked through the ranks of firefighter, company officer, battalion chief, and division chief. He has served as an operations chief, emergency medical services (EMS) chief, chief of training, and currently as the Assistant Chief of Operations.
In addition to his extensive on-the-job experience, Chief Downey has completed numerous professional courses earning his Associates and Bachelor's degree in Fire Science, as well as, a Master's degree in Public Administration. He also has certifications as a technical rescue technician, flight medic, task force leader and a fire instructor. Currently, he serves as a National Urban Search and Rescue (US&R) Task Force Representative with the Federal Emergency Management Agency (FEMA).
Chief Downey's promotion will follow the retirement of Fire Chief William W. Bryson, who announced his retirement today after a 38-year career in public service.
"It was not going to be a long stretch for me at MDFR, but it was so rewarding," said Fire Chief William W. Bryson. "I now go off into the sunset and leave the department in the trusted hands of Chief David Downey."
For more information, please contact MDFR's Media and Public Relations Bureau at (786) 331-5200.