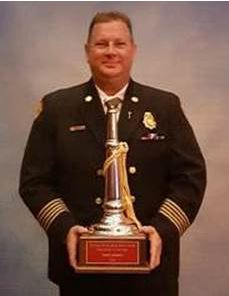 (MIAMI, July 22, 2015) –Miami-Dade Fire Rescue's (MDFR) Fire Chief Dave Downey was named 2015 Florida Fire Chief of the Year by the Florida Fire Chiefs' Association. This award is the most important 'honor the Florida fire service can bestow on one of its fire chiefs in recognition of leadership, innovation, professional development, integrity, service to the public and contributions to the fire service as a whole serve as an example of and challenge for all other chief fire executives throughout Florida.
Chief David Downey is a 29-year veteran of the fire service, having spent 24 of those years with MDFR. Beginning his MDFR career in 1988, he worked through the ranks of firefighter, company officer, battalion chief and division chief. He has currently served as MDFR Fire Chief for over two years.
In addition to his extensive on-the-job experience, Chief Downey has completed numerous professional courses earning his Associates and Bachelor's degree in Fire Science, as well as, a Master's degree in Public Administration. He also has certifications as a technical rescue technician, flight medic, task force leader and a fire instructor. Currently, he serves as a National Urban Search and Rescue (US&R) Task Force Representative with the Federal Emergency Management Agency (FEMA).
For more information, please contact MDFR's Public Affairs Bureau at 786-331-5200.