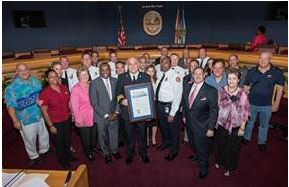 (MIAMI, September 16, 2015) – Miami-Dade Fire Rescue (MDFR) Chief Louie Fernandez was honored by Miami-Dade County Commission Chairman Jean Monestime with a proclamation in recognition of his retirement.
Chief Louie Fernandez has been with MDFR for 28 years and retired as Assistant Fire Chief for Technical Support Services where he was responsible for the executive oversight of division-level chiefs and managers operating in one of the largest and most diverse public safety environments in the nation.
Chief Fernandez joined MDFR as a firefighter in 1987 and later moved up through the ranks serving in a wide variety of specialized positions including fire department operations and administration, as well as emergency management and public affairs. In 1996, he was the inaugural recipient of the Florida Fire Chiefs' Public Information Officer of the Year award.
For more information, please contact MDFR's Public Affairs Bureau at 786-331-5200.
# # #
Miami-Dade Fire Rescue Department
9300 NW 41st Street, Miami, FL 33178
(786) 331-5000
www.miamidade.gov/fire