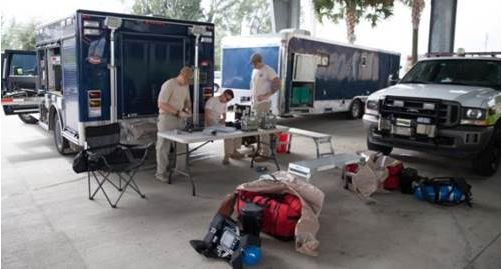 (MIAMI, Nov. 18, 2015) – Miami Dade Fire Rescue (MDFR) hosted an interoperability exercise involving MDFR Hazmat Team and the National Guard's 48th Civil Support Team (CST).
In light of current events, both domestic and international, the importance of multiagency response has become a crucial component of operations. The goal of this exercise is to coordinate the joint efforts of our local and state Hazmat teams and how to best utilize their assets in order to mitigate potential weapons of mass destruction (WMD) events.
MDFR's Hazmat team is tasked with first response to hazardous materials and potential chemical, biological, radiological, nuclear or enhanced improvised explosive (CBRNE) events. The National Guard CST complements and supports local civil authorities in responding to events known or suspected to involve weapons of mass destruction, whether it is hostile use of chemicals such as nerve or blister agents, toxic industrial chemical spills, biological events or radiological sources.
For more information, please contact MDFR's Public Affairs Bureau at 786-331-5200.
MEDIA NOTE: If you are a news agency looking to do a story with our hazmat team, please contact our Public Affairs Bureau.